What is E-commerce?
E-commerce is the act of buying or selling online.
E-commerce typically refers to commercial transactions, such as those between a customer and a business on an e-commerce website. To be classified as an e-commerce website, customers must be able to purchase your product or service through your website. 
There are now a variety of payment types you can accept on your e-commerce site, including debit card, credit card, PayPal, Apple Pay, Google Pay, and more.
There are two main ways you can sell online via e-commerce. The first is to build your own e-commerce website. The second way to sell online is to place your product or service on a third-party e-commerce store, such as Amazon, Ebay, Etsy and etc…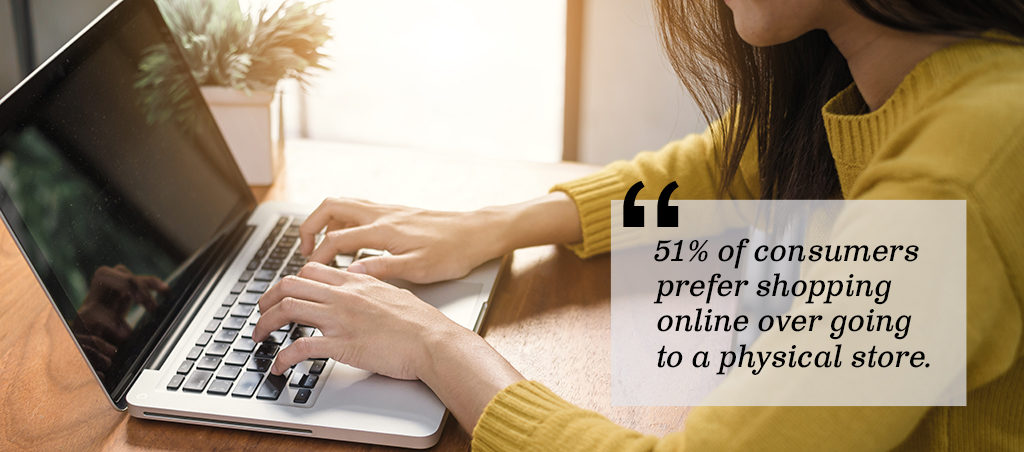 Why is E-commerce Important?
The landscape of retail is changing. More and more people are buying online.  51% of consumers now prefer shopping online over going to a physical store. Why? For many people, shopping online meets two common buying requirements: convenience and trust. (source)
Because of this shift in how we sell and buy, e-commerce now occupies a large portion of retail sales – approximately 10% of all total retail sales came from e-commerce in 2018. And that number is rapidly growing. The percentage of retail sales by e-commerce is expected to rise to 13.7% by 2021. (source)
In addition to occupying a large portion of retail space, e-commerce is now a big part of the customer journey, even if the final transaction doesn't occur online.
71% of consumers begin their buying journey by discovering new products online via search. Once they have discovered what product they are looking for, 74% of consumers use online sources and e-commerce for research, comparison, and, ultimately, purchase. (source)
While the numbers show that more people are shopping online, the number of small-medium businesses with e-commerce stores is still relatively low. Only 34% of small businesses sell through their own e-commerce website, and only 46% of small businesses have a website at all. (source)
Another benefit? E-commerce allows you to expand your potential customer base to a national, or even international, level. With an e-commerce store, you are no longer restricted by location or local demographic, and by utilizing e-commerce marketing you can reach more people across the world looking for your specific product or service.
So why is e-commerce important? Simply put: people want to research, compare, and shop online. By investing in an e-commerce store or website, you're making the decision to meet your potential customers where they're already searching and shopping – online.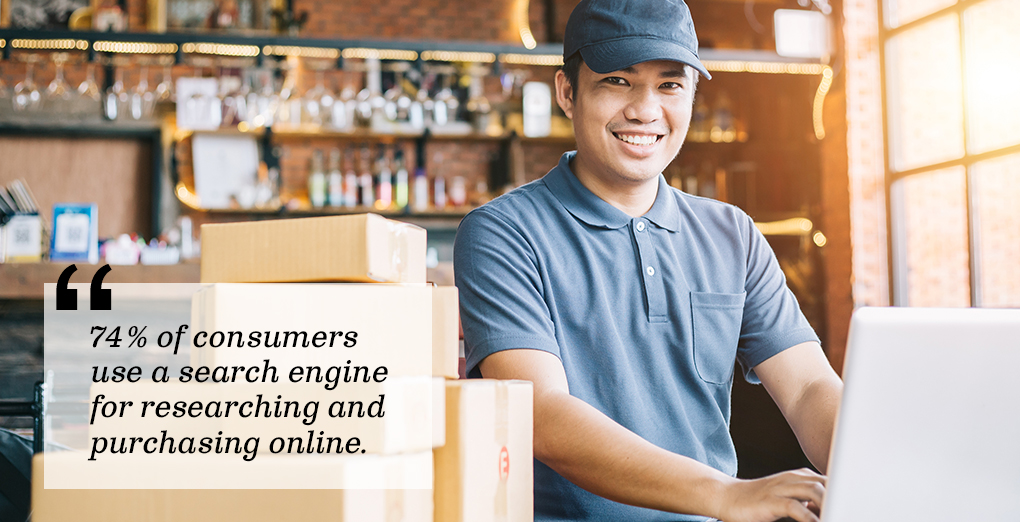 Who Should Use E-commerce?
Before we dive into who should use e-commerce, let's first take a look at who can use e-commerce. Though we focused mainly on retail in the last section, it is certainly not the only industry in which businesses can use e-commerce to grow.
E-commerce is extremely important for businesses of all kinds. At a high-level view, there are 6 types of e-commerce businesses:
Business-to-Business (B2B)
Business-to-Consumer (B2C)
Consumer-to-Consumer (C2C)
Consumer-to-Business (C2B)
Business-to-Administration (B2A)
Consumer-to-Administration (C2A)
Of these, the two most common types e-commerce businesses are B2B and B2C. If you have a product or service that you can sell, you have the potential for e-commerce, whether you're selling to customers, businesses, or administration.
Now we know who can use e-commerce, but who should use e-commerce? To determine if your business is right for e-commerce, there are a few questions you should ask yourself:
Is there a demand for my goods online?
Do I have the time to manage my e-commerce store?
If not, can I afford to pay someone to manage my online store?
Do I have the budget for e-commerce marketing?
If you answered yes to at least 3 of these questions, then you likely can – and should – be using e-commerce to sell online!
E-commerce Platforms
Choosing your e-commerce platform may be one of the most daunting tasks involved in building an e-commerce website – especially if you've never worked with any e-commerce platforms before.
There are many e-commerce platforms to choose from when starting your online store. The sheer number of choices may overwhelm you, but you'll likely also notice a pattern. Almost all lists and comparisons of e-commerce software will include these 5 platforms: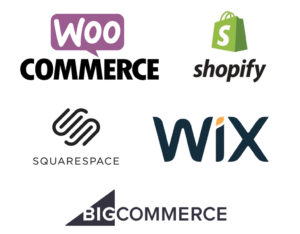 Which is the best? Unfortunately, there isn't a one-size-fits-all answer to that question. Every business is unique and therefore has unique needs. However, there are a few critical considerations to take into account when choosing your e-commerce platform.
Your Industry – Is there an e-commerce platform that has been designed specifically for your industry?
Your Budget – Budget is a significant factor to consider when choosing your e-commerce platform. Which platforms can you afford? Do you have the budget to build a custom e-commerce website? What additional charges may occur depending on the e-commerce platform you choose?
Your Current Website – If you already have a website, take into account the software used to build your current site. Do you have a WordPress site? Then a plugin like WooCommerce may be your best best. If you're on a platform like SquareSpace, adding e-commerce through SquareSpace would make the most sense.
Functionality – The last critical factor to take into consideration is the functionality of your e-commerce platform. Think about what you need your e-commerce store to include. Is it advanced search options? Complex coupons? Make a list of the functions you need before you begin your search for your e-commerce platform.
E-commerce User Experience (UX)
A great user experience is imperative when it comes to e-commerce and your online store. If the buying process is too complicated or parts of your site are broken, potential consumers will just leave your website and find the product they're looking for somewhere else.
Users expect your e-commerce site to be:
Easy to navigate
Convenient to use
Accurate
Secure
They expect their experience to be:
Fast
Seamless
Flexible
Unique
Consumers have a lot of options to choose from when shopping online. To ensure that they choose you, you need your e-commerce site and buying experience to align with – and exceed – their expectations.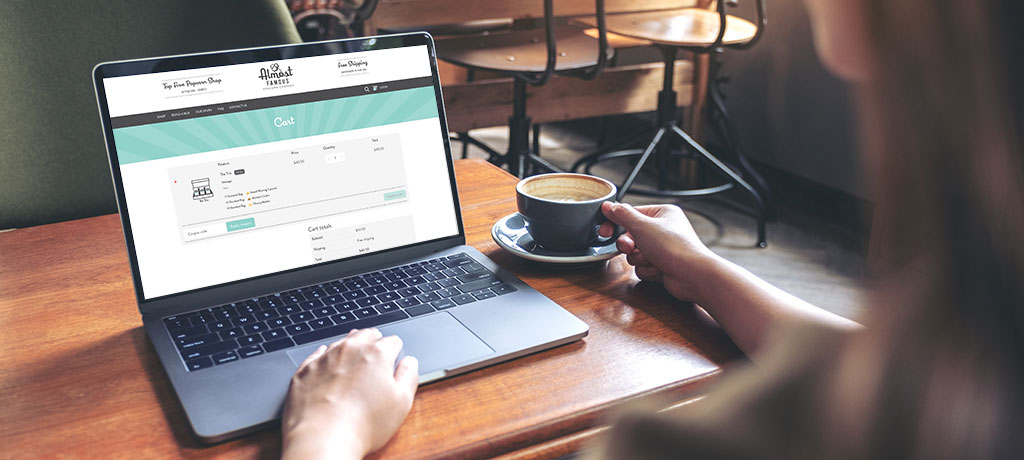 Improving User Experience
If you want to boost your e-commerce conversion rate (completed transactions) and increase sales, improving user experience needs to be a priority. The best way to start improving UX is to first perform an audit of your website.
It's likely you've spent countless hours on your website. After a while, it's easy to become blind to issues regular users may have. To discover the issues users experience on your site, it can be useful to enlist the help of friends or family to review the website and give you feedback. By getting fresh eyes on the site, you'll bet a better understanding of the experience of new users and likely walk away with a list of ways you can improve your user experience.
If you are interested in a more thorough audit of your website – including b0th the front end and back end – you can hire professionals to conduct the audit. A team of UX experts can help identify holes in your user experience and put together a plan for improving the overall functionality of your site.
Improving E-commerce User Experience
There are specific things you can do to improve your e-commerce user experience – and in effect improve sales on your site. While general UX is critical for e-commerce sites, they also require you to take things a step further. Some examples of how you can improve your e-commerce user experience include:
Streamline the checkout process
Add product or demo videos
Limit the number of popups
By implementing these improvements, you can drive more traffic to your site, keep users on the site, and increase sales!
E-commerce Shopping Cart
As we mentioned above, streamlining your checkout process is a crucial part of your user experience. Your shopping cart and checkout process are arguably the most important part of your e-commerce store. This is where the monetary conversions happen. It is also where you can lose a large percentage of your sales.
When someone begins the process of checking out but never completes the transaction, that is known as an abandoned cart. There are many reasons why someone might abandon their cart. Your job is to try to remedy those reasons before it happens!
The first thing you can do to optimize your shopping cart is to simplify the process. Don't make your customers click through 5 different pages to get to the final checkout page. The fewer clicks, the better! A great example of this is Barnes and Noble's Instant Purchase option. One click and you're done!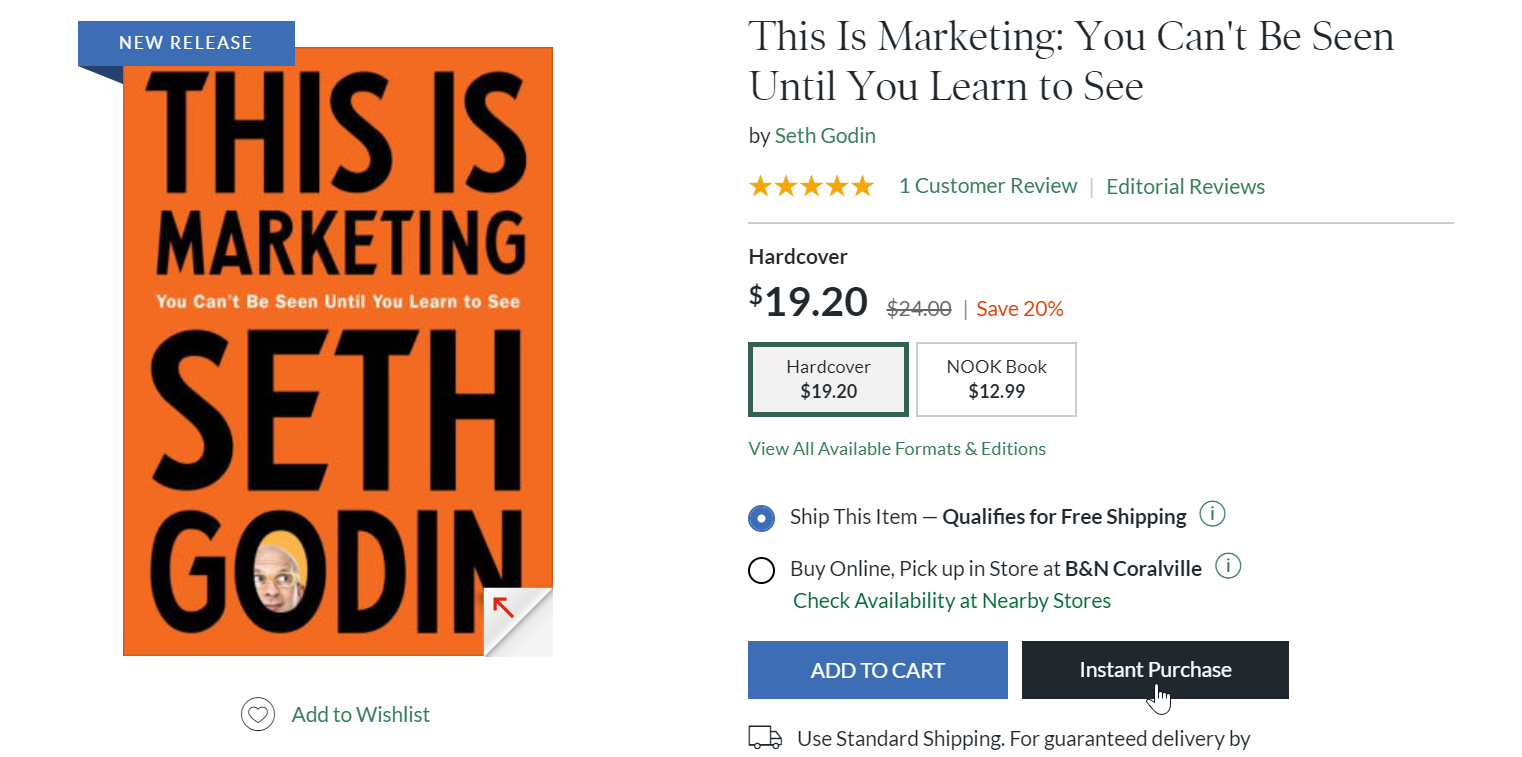 You also want to make your pricing as transparent as possible. Nobody likes to be hit with hidden fees, taxes, or shipping costs. Sticker shock is one of the leading reasons why people abandon their cart before purchasing. Make sure your users know what they're going to be spending before they begin to check out.
Sometimes the reasons your users don't finish their transaction are out of your control. Perhaps they simply got busy and forgot or just aren't quite ready to pull the trigger on their purchase. This is where e-commerce marketing comes in. You can create a series of emails to remind your customers of their unfinished purchases (abandoned cart emails) or even advertise to them on social media.
Optimizing your shopping cart will help ensure that more people who start the checkout process finish it.  You can learn more about optimizing your checkout process here.
E-commerce Automation
Automation allows you to do more with less time and effort. E-commerce automation is no exception. Automating email communications such as the abandoned cart emails mentioned above or product reviews are a great way to ensure that you keep your brand in front of your customers and increase online sales.
Other important e-commerce automations include
chatbots

lead generation

list segmentation
Chat Bots
You've likely seen or interacted with a chatbot before. They usually appear in the lower right-hand corner of the screen and pop up asking if you have any questions. Chatbots are programmed to answer frequently asked questions and help your users navigate your website.

There is one drawback to chatbots – they can't answer every question. Another option is to have a live chat available. While still an automation, the live chat takes more manpower to execute successfully. You have to be available to answer questions on the live chat throughout the day. One advantage? Many live chat software can integrate with third parties to make responding to chat requests fast and efficient!
Lead Generation
While increasing sales is always a priority, lead generation should never fall to the wayside. Lead generation is an important strategy for increasing sales.  The more qualified leads you have, the more you can nurture those leads and turn them into customers.
E-commerce automation can work to help you generate more leads. You can do this by creating lead flows to help you qualify leads for your sales efforts. It can also help you nurture those leads by tracking their purchases, which emails they open, and which deals they use!
List Segmentation
In addition to creating leads through lead generation, e-commerce automation can also help segment your leads. You want to be hitting your leads with the right information at the right time. You can do this through list segmentation.
List segmentation occurs in your CRM (Customer Relationship Management) platform. Your segmented contact lists can be based on where they are in the customer journey, which product or service they're interested in, or how you received their contact information. The options for segmenting your lists are endless. The way you segment your lists, however, will depend greatly on your business and your goals.
E-commerce SEO
SEO refers to Search Engine Optimization. It is the process of optimizing your site so that visitors can find you without you having to pay for it. Website traffic that is brought in through your SEO efforts is known as organic traffic, and it's the most important traffic you'll receive.
E-commerce SEO enables visitors to find you whenever they search for your product or service. This can be on any search engine platform – Google, Bing, Yahoo, etc. As Google is the most popular search engine, is it generally the one that SEO experts focus on the most.
As with user experience, the first step to optimizing your site for search engines is to conduct an SEO audit. Because of the technical and back-end aspects of SEO, it is recommended that you hire experts to perform your audit. From there you can determine what needs to be done to improve your site to help you rank higher in search engine results.
One of the main proponents of SEO is the use of keywords. Keywords are the words or phrases you want to appear for when someone searches them. For e-commerce SEO, these keywords are going to be related to the product or service you're selling. The best way to discover the keywords you want to use is to sit down and compile a list of searches you want to appear in.
Once you know which keywords you'd like to rank for, implementing them can be a very time-heavy task. Each page, product, and service must be optimized for the keyword associated with it. However, once you start seeing a boost in organic traffic, all the work put into improving your SEO will definitely feel worth it!